Group Events & Tournaments at Tiara Rado & Lincoln Park
Tiara Rado Golf Course is the perfect location to host your golf trips and charity tournament or outing with the beautiful Colorado National Monument in the background of each stroke. Spend the day with us for a million-dollar golf experience at municipal golf course value! Email golf@gjcity.org for information for your next tournament, outing, or buddies' golf trip!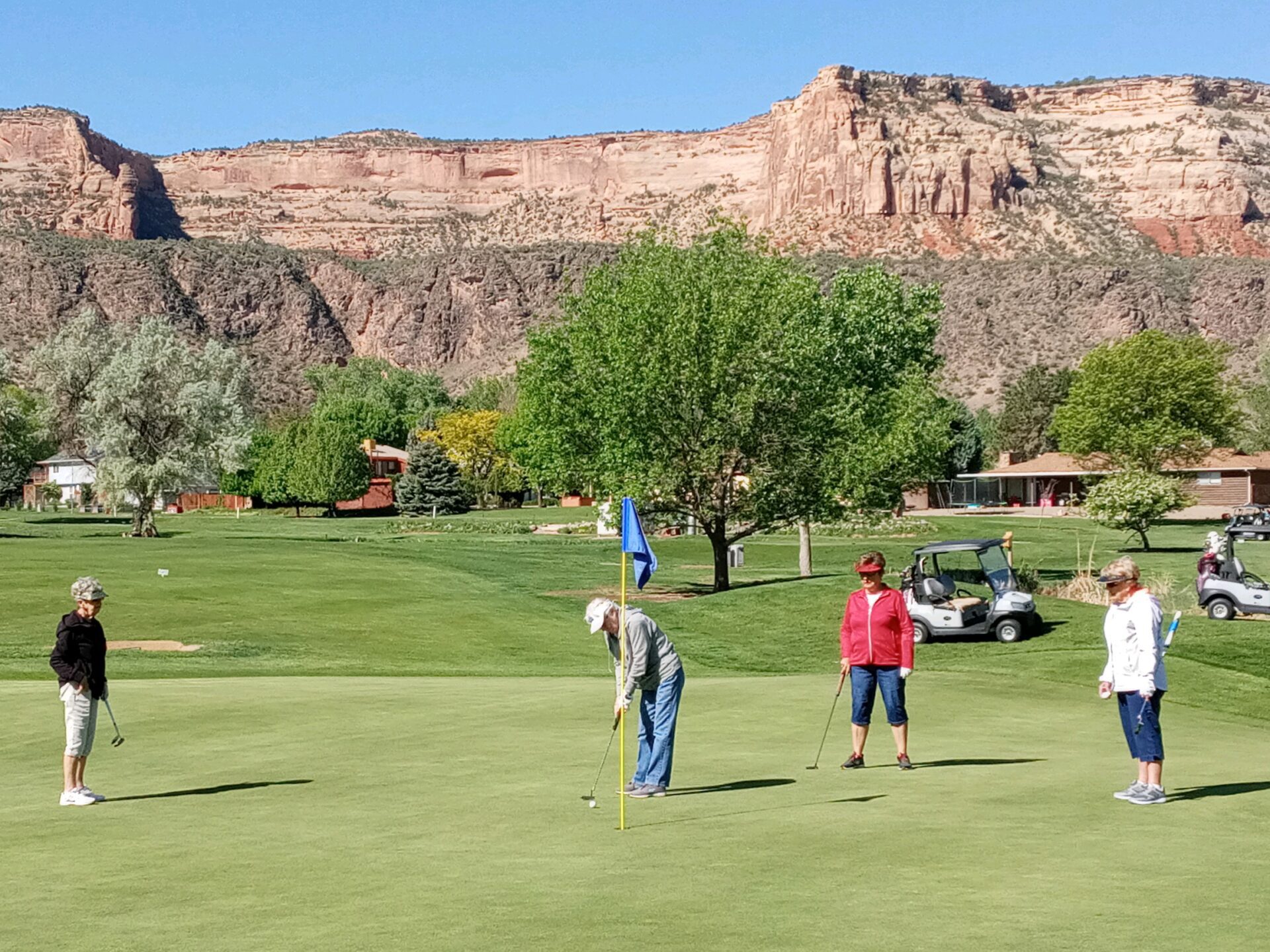 Why Choose Tiara Rado or Lincoln Park For Your Next Group Event?
Our golf professional staff is highly experienced in coordinating each aspect of your event

We offer affordable and value-added event packages and can create any event to meet the needs of your group, charity organization, or fundraiser

Both golf courses have enjoyable layouts making golf fun for players of all abilities
An event form may be picked up at either golf course and submitted for approval to the Director of Golf.
The Golf Course Superintendent has the right to close the course at any time when damage may occur to the course.

Any damage to the course, clubhouse or equipment caused by the group, will be the responsibility of the sponsoring group and the assessed damage amount will be payable within 7 days from the date of the tournament.

Food and soft drinks–facilities are available at each golf course for food and beverage service. All food and beverage must be purchased through the course's food and beverage concessionaire. Check with respective golf course for menu and costs.
Groups must follow all rules as posted for normal play at the golf courses.
Colorado State Liquor Code requires that only alcoholic beverages purchased at the respective golf course must be consumed on the premises or the course.
Payment for food, beverages, and all additional charges of the group must be made by the completion of play.
In the case of failure to comply with the Course guidelines,

 

person(s) responsible for violations will be asked to leave the premises after an initial warning.
Lincoln Park and Tiara Rado Golf Courses are spikeless facilities. Please notify participants and ask them to wear spikeless footwear.
2022 Sponsor Packages
We are currently offering great sponsor packages to fit multiple budgets that include free rounds of golf in each option. With over 40,000 rounds played per year at the golf course, organizations have an opportunity to be seen by thousands of unique customers. In addition, we host over 20 charity & fundraising tournaments throughout the year, putting your business in front of a wider range of audience.
There are three sponsor packages to choose from. Click on the links below to obtain details for each:
To obtain more information, please contact Tim Tafoya at timt@gjcity.org or (970) 254-3835.
May 21, 2022 – 13th Annual Firefighters Local 2808 Golf Tournament
13th Annual Firefighters Local 2808 Golf Tournament
Thank you for your interest in the Local 2808's Charity Golf Tournament. It's our 13th annual tournament, and we are excited to raise money for Firefighters Local 2808 Foundation and look forward to seeing you there. This year, we have an easy-to-use online sign-up, along with some great shirt options for the golf enthusiast.
This is an 18-hole Shotgun Tournament that will take place at Tiara Rado Golf Course.
The entry fee is $100 per player which includes 18-whole, lunch, and lots of prizes!
Proceeds go to the Golf Grand Junction Firefighters Foundation and Grand Junction Professional Firefighters Local 2808
Online registration period will be available 02/23/22 – 05/02/22
Check In: 7:30 – 8:30am
Start: 8:30am Shotgun Start
Driving Range Opens: 7:30am
All guests will have the opportunity to bid on a sensational array of prize packages at this year's silent auction. Also, you will have the opportunity to purchase 50/50 raffle tickets for $5.00/ticket or $20.00/5 tickets.
We still have great Sponsorship Opportunities click here for details.
The Grand Junction Firefighters Foundation and Local 2808
Fundraising provides grants for firefighters, firefighters' families & local residents who have suffered a significant personal tragedy. We also provide grants to local organizations that support our mission and values. As Grand Junction firefighters we have daily encounters with families in our community. These interactions are personal and usually take place in the family living environment. We created a community support campaign that allows us to identify and support families that are struggling financially. Our assistance is tailored to each individual family to best improve their unique situation. We greatly appreciate your support and look forward to working with you this year!
We cannot plan and execute an event of this stature ourselves, which is why we need your support! Sponsorships continue to be the most cost-effective way to accomplish a charity fundraiser. Please see the sponsorship form attached for more details on all of  the exciting opportunities. We thank you for your continued support of the Local 2808 and cannot wait for you to join us in making the Annual Local 2808 Charity Golf Tournament a huge success!
QUESTIONS? Contact, Local 2808 at (303) 817-3195 or email: golf.local2808@gmail.com.
Click here to access the official tournament's website.
Click here to view a printable version of the Tournament Details.
2022 Nine & Dine at Tiara Rado & Clubhouse 25
Join us for 9-holes of golf scramble games at Tiara Rado & dinner at Clubhouse 25!
Each event will have a different golf scramble game and delicious dinner to enjoy with friends and family.
$30 to walk; $35 to ride—per person includes meal.
Mark your calendars now and invite your friends
April 24 – Step-Aside Scramble
Whichever team member's ball is chosen, that team member 'steps aside' for the next shot.
For dinner, Flatbread Pizza with Salad & Cheese Balls
May 29 – Las Vegas Scramble
A roll of the dice is used on the tee to determine which team member's drive will be used.
For dinner, Grilled Chicken with Pasta, Salad & Breadsticks
June 26 – String Scramble
Teams may use the length of string for a stroke on the putting green.
For dinner, Pulled Pork, Baked Beans & Coleslaw with Chips
July 31 – One Club Scramble
Each team member chooses one (1) club, plus a putter, to use for the round. One club ONLY per team member.
For dinner, Burgers, Brats, Potato Salad with Fries or Tots
August 23 – Worst Ball Scramble
The worst shot of each team member is chosen until the ball lies on the green. Standard scramble rules apply on the green.
For dinner, Enchiladas, Rice & Beans with Nachos
September 18 – Florida Scramble
Each team member MUST use two (2) of their putts per nine holes.
For dinner, Green Chili Soup & Taco Truck Salads with Chips & Salsa
October 30 – Trick or Treat Scramble
Each team member MUST use 1 drive, 1 approach shot & 1 putt per nine holes.
For dinner, Flatbread Pizza & Salad, Boneless Wings & Meatballs
Click here to view a printable version of the event dates and details.
Questions: Contact Tiara Rado Golf Course at (970) 254-3830 or email Golf@gjcity.org.